Codefront.io is around the corner
There are only two weeks left before the international front-end conference in Linz - Codefront.io. It's organized by the guys from WebBox and it's scheduled for 10th of May. You still have a chance to buy a ticket and listen interesting talks about our lovely Web.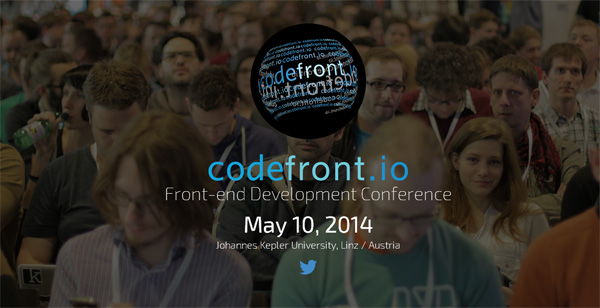 Where
The conference is hosted by Johannes Kepler University in Linz, Austria. I never been there, but it looks like a really cool place.
You will normally come to Vienna Airport, grab a taxi or something to the train station where you could pick a bus or train to Linz. More information on the official page here.
The speakers
There will be three tracks covered by more then 25 speakers. From different countries, these guys are leading engineers, bloggers, writers. You probably already use some of their inventions or read articles in their sites. I'm absolutely sure that you know SmashingMagazine. Vitaly Friedman is a co-founder of this giant collection of interesting and professionally written materials. We all learned a lot from this site and it definitely worths visiting the conference just to say Hi to Vitaly. He will also lead a workshop during the event on topic Responsive Web Design: Front-end/Performance Perspective. If you are interested follow this link.
The really awesome thing about such places is that we have the chance to meet developers working for some of the biggest and innovative companies in the world. Like for example Kevin Sawicki which will talk about Atom editor or Mathias Bynens which will show us how JavaScript relies on Unicode. We will be pleased to listen Monica Dinculescu from Google about how Chrome keeps the users happy or Andy Hume from Twitter about architecting resilient front-ends.
Last year I spent a lot of time producing CSS. I didn't say writing because we all know that nowadays most of us use preprocessors. I spend good amount of time dealing with SASS code and I'm very happy that Hampton Catlin, the inventor of this language, will give us brief history and introduction on the topic. Another interesting talk will be the one from Burak Yiğit Kaya. He works at Disqus (a platform that we all use) and will talk about standardized realtime events with EventSource.
I really don't want to miss someone so here is a full list of all the speakers and their talks:
The schedule is available here.
Goodies
There will be (I'm sure) delicious lunch and extraordinary after party. I'll be there for sure, so if you want to take a beer and chat with awesome and friendly Web people open this page and buy a ticket.